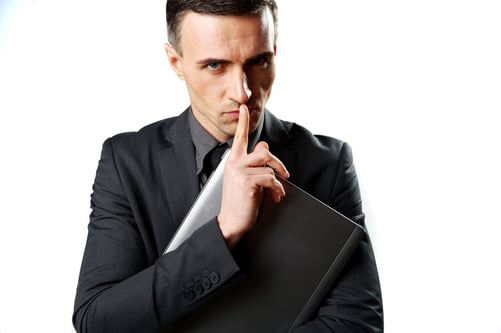 When it comes to gaining new clients, your ability to demonstrate your expertise and success through case studies, client testimonials and positive news coverage is critical to building credibility and trust (and earning new business). It's a vital component of selling and relationship building. As the saying goes, the proof is in the pudding, right?
But what do you do when you work in sensitive industries and/or on confidential projects? How do you demonstrate your capabilities and the work your firm can perform if it's top secret and you can't talk about it? For example, at Handex, we're an environmental engineering firm and a large portion of our work is site investigation and contamination clean up.
Well, it's no surprise that high profile public companies, large private client firms or any company or individual for that matter does not care to air their dirty laundry (pun intended). Nobody wants to talk about their messes and what a huge undertaking it was to clean them up.
The good news is that there are a few ways you can market something that would normally be taboo to talk about. Here are seven ways how:
1. Set the Stage
Create the proper expectation upfront. Introduce the idea early on by putting it in your contract with the client. Gain agreement from the client upfront. Include language that gives you permission to use client work as a case study for your company. A way to ease the client's mind with this language is to incorporate a client approval process, where they would have the final say on what gets published.
2. Ask
Sounds easy enough, right? One of the largest misconceptions is that companies fear their client's response will be negative if they were to ask if their project could be used as a case study or project profile to promote their business. They envision the worst possible outcome and scenario. This paralyzes them from even trying. Guess what? By not asking, you have already created a "no" response, so what do you have to lose? Go for it.
Remember, people like helping people that help them. Developing a great relationship with your client where you're viewed as a trusted advisor and strategic partner makes the task much easier. Ask the client if you can create a case study or if they'd be willing to provide a quote about what it was like working with your firm. Assure the client that the case study can always be modified to the client's satisfaction before it is used. Clients will benefit from association with your well-respected firm. Remind them of that.
3. Offer Clients the Opportunity to Provide Feedback
At Handex, we have a Quality Program and a key component of this program is our ongoing quality survey. We survey clients formally quarterly to gain insights into how our client relationships are going and into clients' satisfaction level with us. During the survey, we ask if the client would be willing to provide a testimonial or referral, aka net promoters. You want net promoters. You need net promoters. In a perfect world, every client would be a net promoter.
4. Let Clients Tell Your Story
Two words: client testimonials. Just like PR/earned media coverage, having someone else tell your prospects you're great is so much more impactful than telling them yourself. In the PR world, we call it third-party credibility.
Clients have been in the prospect's shoes before. They may have had similar fears and reservations about working with your firm. Client testimonials carry a lot of weight. The prospect thinks "Hey, if it worked for them, it can work for me too."
5. Make It Standard Operating Procedure
At the completion of a job, send an email or letter from the CEO asking the client's permission to feature them on your website. Explain the benefits to the client, aka "what's in it for me?" By listing the client's business name and logo, we can provide a link back to their website and feature them in our site content, which helps with their online visibility (additional exposure and SEO). It's a win/win.
6. Redact Client Information and Sensitive Details
If there are identifiable details in a body of work that would link back to the client, a specific location, project or problem, find ways to remove those identifiable items, especially in sensitive cases. There are ways to still demonstrate capabilities and paint a picture of success or scope of work without disclosing confidential information or revealing details of the job that the client may not care to share.
7. Always Get Client Approval In Writing
Remember, verbal agreements don't hold up in a court of law. Get client approval in writing, even if it's just an email. Don't let a client be surprised to see their name in print. The contact you interact with daily on the project may not be the same person who signed the agreement (which provided client consent to use their work as a case study for your firm). Make sure your contact is aware of the commitment. Figure out ways to work together to protect sensitive client information yet still showcase your great work for them and how you solved a problem/produced results.
Craft Your Message
It is possible to market things that most people would rather not talk about. By taking the time to carefully craft your message and keeping a positive outlook on the situation, you can reduce much of the risk that comes with publicizing taboo subjects. Follow these seven steps and you will be on your way to a successful marketing campaign.