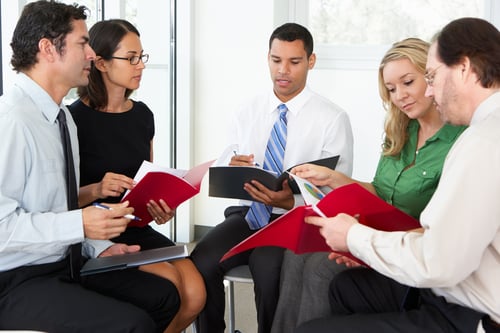 At Handex, we have the motto "One HCR." This signifies that while many departments have different functions, we are committed to working together and breaking down any silos which could divide us. Because we are a long-cycle consultative sale solution provider, our sales team works closely with our engineers and operations groups to make sure we are all on the same page.
Historically, our operations team is in constant contact with the customer, but their focus is on the tactical challenges of completing the project at hand. Tactical focus is great, but the relationship requires that sales and operations are on the same page. Day to day project interactions can often have a significant impact on the relationship, so it's important to get tactical feedback. We do this on-going and through weekly sales-operations meetings.
On the other side of the coin, sales must connect the tactical side of the business with a strategic understanding of the customer's short, intermediate and long term needs so they have perspective on how the current project fits into the customer's overall needs.
So what can you, as a leader, do to unify your business?
1. Set the Standard
As the leader of your team, you must set the example. You create the values, the atmosphere, the communication and the opportunities. A team's culture is a direct reflection of the behaviors and attitudes reflected by the leader. In other words, "be the change you want to see."
2. Establish Accountability
Pointing fingers, avoiding blame and shifting responsibility are sure-fire ways to create a divide amongst your team. If you, as a leader, exhibit any of these behaviors, your team members are sure to follow suit. It is important to accept responsibility for your actions and create a culture of accountability where everyone is focused on the customer's well-being.
3. Squash Conflicts Right Away
Whenever there is an interdepartmental conflict in your office, somebody needs to step in and resolve that conflict as quickly as possible. As a leader, you don't want to play the blame game. Simply find out what the issue is, how it arose and what can be done to prevent recurring conflict in the future.
4. Communicate the Right Message
Your team's main priority should be to create a great customer experience day in and day out. During every meeting and every training session, this is the message you want to send to your team.
Always One
Having different perspectives is helpful and necessary for the creative tension which needs to exist between sales and operations, but it must be focused in the right direction. Our solution is for each department to understand the perspective of the other members of the team and to distinguish between tactical, short term considerations and strategic, long term considerations.
Communication and feedback are critical for everyone to work together and share information. While sales and operations may be two sides of the same coin, they are always one.