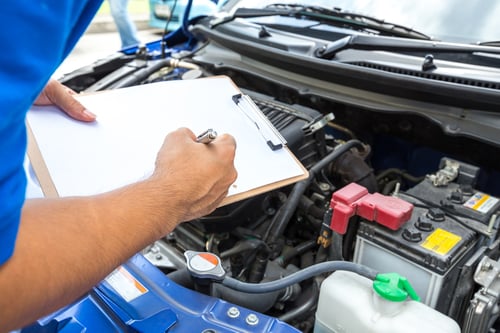 All commercial vehicles that weigh more than 10,000 pounds must undergo inspection by the Department of Transportation at least once a year to ensure that all parts and accessories are in good condition, working properly and are safe to use.
So what do these inspections entail? Here is our commercial vehicle safety inspection checklist to help you prepare.
Driver Inspection
This is where the inspector will be checking the driver's qualifications and documents for compliance with applicable regulations. Things that can be checked during the inspection include:
Driver's license
Driver's daily log and hours of service
Driver and Vehicle Inspection Report
Medical card and waiver
Alcohol and/or drugs
Hazmat requirements
Vehicle Inspection
When checking a vehicle, the inspector will be looking at and evaluating these specific parts and accessories to make sure everything is in good condition and the vehicle can be operated safely and effectively:
Seat belt
Brakes
Brake lamps
Coupling devices
Exhaust system
Frame
Fuel system
Headlamps
Lamps on projecting loads
Safe loading
Securement of cargo
Steering mechanism
Stop lamps
Suspension
Tail lamps
Tires
Trailer bodies
Turn signals
Wheels, rims and hubcaps
Windshield wipers
How to Prepare
Of course, the best way to ensure you pass any safety inspection is to keep your vehicle in top shape and address any potential issues before they occur. All repairs and maintenance to the vehicle should be performed by a qualified individual. However, It doesn't take much time and experience to conduct a simple walk-around inspection before and after every trip, focusing on the following areas:
Tires - Tires have a tendency to deflate slowly over time and should always be checked before an inspection to make sure there is a good amount of pressure. You should also read up on the rules and regulations in your state regarding mud flaps/splash guards to make sure your vehicle is up to code.


Lights - Lights, bulbs and electrical signals that are malfunctioning can be a safety hazard. Be sure to test all the lights on the vehicle on the vehicle to make sure they are working properly. This includes the headlights, high beams, low beams, brake lights and turn signals.


Cracks or chips in the glass - Any chips or cracks in the windows or windshield can quickly worsen if they aren't fixed right away. Make sure you are regularly inspecting your vehicles for hairline cracks or "starring" that can result from flying gravel or other debris.
Know the Criteria
To ensure that your drivers and vehicles are passing safety inspections, it's important to know what the inspection will cover. Using this guidance as a tool will help you prepare for upcoming safety inspections.