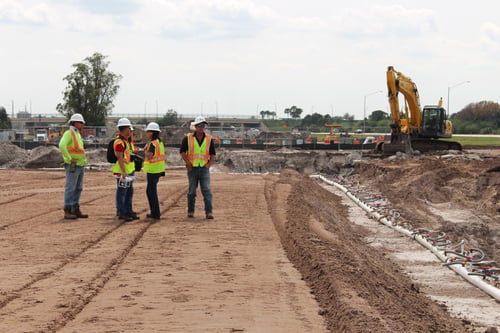 At Handex, we have a passion for quality. We constantly strive for continuous improvement so we can better serve our customers in every aspect of business. While a lot of companies say they have a passion for quality, we truly live it. As part of our Client Quality Initiative Program, we send out surveys to all our clients as a way of strengthening relationships and gauging our weaknesses as a company. These surveys are created to accomplish several goals:
Reinforce the importance of Handex's focus on quality
Gain client satisfaction feedback following projects
Strengthen client relationships
Keep client contact information current/accurate
Identify referenceable clients
Follow-up on client feedback
Address client concerns
Continuously improve
As part of our focus of quality, we also emphasize health and safety as one of our core values. Not only do we value the health and safety of our employees, we know that customers and clients will benefit as well.
The following principles will guide our operations with regard to health and safety:
Nobody Gets Hurt
Handex emphasizes safety as a core value on every worksite. Our goal is to send all employees home at the end of each workday in good health and without injury. Not only do we value the health and safety of all our employees, we recognize that it is absolutely essential to the success of our clients and our own company as well.
Everybody is Accountable
Handex is committed to full compliance with internal and external health and safety standards and we expect the same from all levels of employees, no matter their position in the company. Internally, we follow the Loss Prevention System as our standard for health & safety and loss prevention.
We encourage our workers to use the buddy system while on the job. This means every employee is responsible for his/her own safety as well as that of another employee. This extends to middle management, as well. Each foreperson is responsible for his/her own crew as well as any additional crews that may be working on a project.
Exercise a Stop Work Authority
We develop each and every supervisor into a Competent Person (CP) to represent Handex on the jobsite. This means they have the power to exercise a Stop Work Authority if they feel conditions are unsafe for any reason. These decisions are fully supported by Handex's management team.
Accidents and Injuries are Preventable
Accident prevention is addressed through well-developed training procedures, work site planning, procedural compliance and health and safety planning. We regularly schedule our Health & Safety Management Team to be on site to consult our staff and to provide additional training to employees on safe work practices. In fact, our employees must undergo 40 hours of HAZWOPER training as a requirement of employment.
Identifying Health and Safety Issues is Crucial
We utilize Good Catch Reporting to spot potential hazards before injury or loss can occur. This allows us to take corrective action to reduce the likelihood of future incidents.
Working with Handex
As of today, Handex has achieved 735 days without any worksite injuries. This accomplishment represents our commitment to health, safety and work quality while demonstrating our ability to maintain a culture of accountability.
When searching for an environmental partner, remember that the lowest cost provider is not always the cheapest. In many cases, these providers will provide a smaller return on your investment. Working with a company who is committed to quality and safety is the best way to ensure the job is done right.
Handex is a full, turnkey environmental solutions provider where our clients' needs and expectations mirror our own. Our team will provide high-quality services that meet your needs and provide a solid return on your investment.