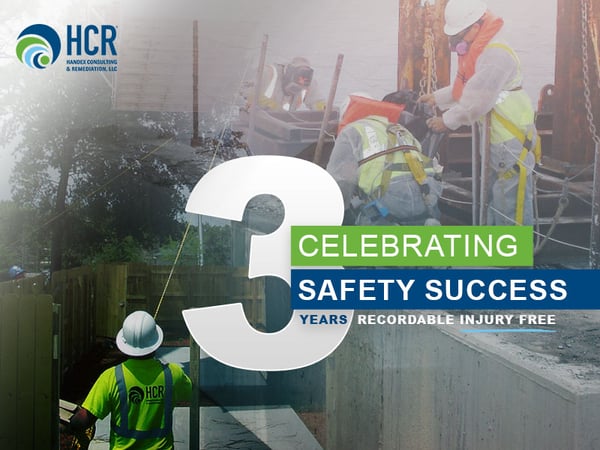 On June 3rd Handex reached a major milestone, three years recordable injury free as an organization. This is a tremendous success and a major achievement for Handex. This accomplishment reflects Handex's commitment to health and safety while demonstrating our ability to maintain a culture of accountability.
Handex's passion for quality, innovative approach, timely delivery and cost efficiency align with safety as a core value on every worksite and in everything we do. Keeping our employees safe is our number one focus. It is through the commitment of our employees that we have been able to achieve this success.
So What Does Handex Do Differently Than Other Companies in Our Industry?
Safety is a multi-pronged effort and a partnership between Handex and our clients. Our employees participate in frequently held safety meetings and worksite supervisors promote a sense of family to ensure all workers are looking out for one another. We strive to make safety a tenet of our company culture. The foundation of our safety program is centered on a proactive behavioral based safety program designed to focus on leading indicators. Handex empowers each employee to be a safety specialist by encouraging hazard recognition and mitigation reporting.
"This is a tremendous testament to the safety consciousness mindset of our employees."
Andy Shoulders, VP and COO
Thank You Handex Employees!
Handex's employee dedication and commitment to ensuring the safety of others has been pivotal to the safety success of our company. We celebrate YOU - Handex employees - and thank you for helping Handex achieve this three year milestone.
In Celebration of our Safety Success, Handex's entire Executive Team thanks you!

Brett Fadeley, Chairman
Bob Case, President and CEO
Andy Shoulders, VP and COO
Tina Misteri, CFO
Fred Blackham, National Sales Director
Andy Hooper, Sr. Director of Operations
David Misteri, Sr. Director of Operations
Kathy Cortez, Director of Administration
Robin Cotchaleovitch, Sr. Executive Assistant