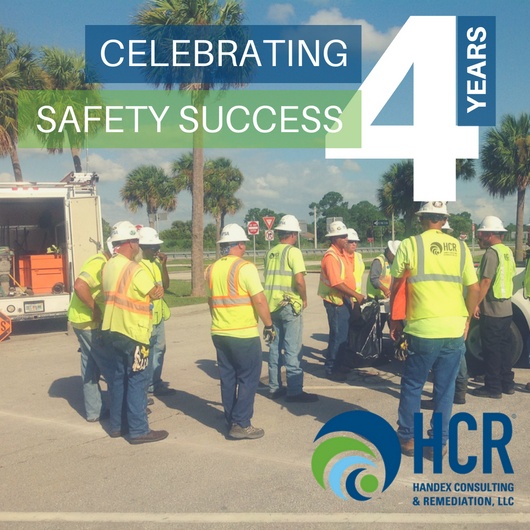 On June 2nd, Handex reached a major milestone - four years recordable injury free as an organization.
"Safety is very important to us as individuals and as an organization. The foundation of our program is based on behavioral based safety, but recently we have been incorporating a more participative safety approach. The more the individual participates in safety, the more responsibility they feel when it comes to the safety of themselves and others. They understand now, more than ever, if we don't work safely, we don't work." – Maureen Davis, Health & Safety Manager
Handex's passion for quality and innovative approach align with safety as a core value on every worksite and in everything we do. Keeping our employees safe is our number one focus. It is through the commitment of our employees that we have been able to achieve this success.
The past four years of safety success is a tremendous accolade and a major achievement for Handex. This accomplishment reflects Handex's commitment to health and safety while demonstrating our ability to maintain a culture of accountability.
How Does Handex Differ From Our Competitors?
Handex's safety program stands out among our competitors. Handex's safety program is a multifaceted approach between us, our clients and subcontractors. We form a union with the mutual goal of keeping everyone safe while producing a quality service. Handex's program is robust and comprehensive, as it incorporates meetings, shared learnings, hazard mitigation reporting as well as many other activities focused on keeping everyone safe. Emphasis is placed on safety beginning day one of employment with safety orientation training and continues throughout their time with Handex. We strive to produce quality results which can only be achieved with safety as a core value.
"Safety is important on so many levels. On a professional level, safety assures our clients that the job will be done efficiently and with minimal risk. On a marketing level, safety gives us the advantage of going for opportunities that might otherwise be unavailable if we aren't performing at our best. On a personal level, everyone wants to go home the same way they came in to work that morning." - Valerie Laroche, Project Manager
Handex Thanks and Appreciates all of it's Employees!
Our employee dedication and commitment to ensuring the safety of others has been pivotal to our safety success. Handex celebrates the dedicated employees and thanks you for helping Handex achieve this four year milestone.