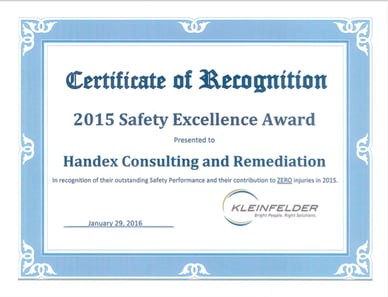 Handex was recently recognized by both Kleinfelder and PES for our incident-free record in 2015. This is a big accomplishment for both our New Jersey and Florida offices. We believe this recognition is a testament to our commitment to our own safety program, our clients' safety program and, most importantly, our technicians and staff scientists that have kept themselves and each other safe in the field.
Thanks to All of Our Staff!
We would like to take this opportunity to thank all of our technicians and scientists who put in long hours in adverse conditions of heat, cold, rain and snow in order to maintain our client relationships. Handex would not be the company we are today without the continued support of our staff and operations team.