Are you concerned about the potential chemicals lurking in your surrounding bodies of water? How about your drinking water? Maybe it's time to test?
Do you know what is in your drinking water?
The EPA has established health advisories for PFAS based on scientific evidence of health risks to these chemicals. The EPA is in the process of determining what regulations need to be put into place to reduce the exposure of PFAS in drinking water. While the EPA is still evaluating what effects these chemicals have on people, they have established the health advisory at 70 parts per trillion.
Let us take a deeper look into PFAS.
What is PFAS?
PFAS is otherwise known as Per- and polyfluoroalkyl substances, are a group of man-made chemicals that includes PFOA, PFOS, GenX, and many other chemicals. These chemicals are used to make fluoropolymer coatings and products that resist heat, grease, water, stains, and oil. For example, items such as clothing, furniture, food packaging, and non-stick cooking surfaces. Since 2002, the production and use of PFOS and PFOA in the United States has declined. However, as PFOS and PFOA are phased out and replaced, people may be exposed to other types of PFAS.
Should I Be Concerned?
The chemicals in this group have been a cause for concern because they do not break down in the environment. This causes it to move through soils, drinking water and can accumulate in fish and wildlife. There are many places these chemicals can be found, but two major areas of concern are:
Drinking water: typically localized and associated with a specific facility (e.g., manufacturer, landfill, wastewater treatment plant, firefighter training facility).
Living organisms: including fish, animals, and humans, where PFAS have the ability to build up and persist over time.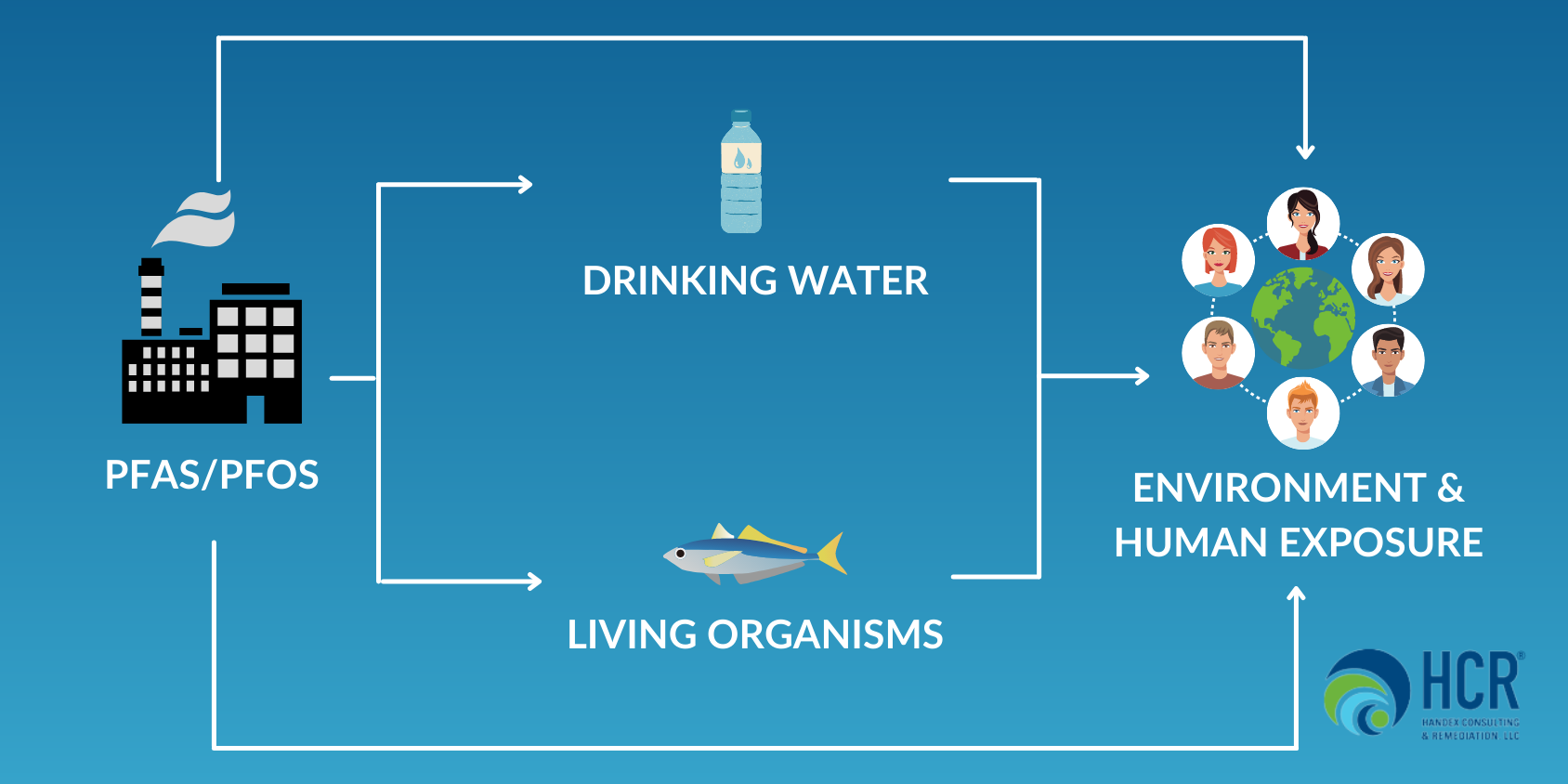 There is evidence that exposure to PFAS can lead to adverse human health effects, which is why the EPA has issued a health advisory for these chemicals.
What is a health advisory?
A health advisory provides information on contaminants that can cause health effects and are known or anticipated to occur in drinking water. To provide Americans with a margin of protection from a lifetime of exposure to PFOA and PFOS from drinking water, the EPA has established the health advisory levels at 70 parts per trillion. EPA's health advisories are non-enforceable and non-regulatory and provide technical information to state agencies and other public health officials on health effects, analytical methodologies, and treatment technologies associated with drinking water contamination. EPA's health advisory level for PFOA and PFOS offers a margin of protection for all Americans throughout their life from adverse health effects resulting from exposure to PFOA and PFOS in drinking water.
What health issues arise from these chemicals?
EPA's health advisories are based on the best available peer-reviewed studies of the effects of PFOA and PFOS on laboratory animals (rats and mice) and were also informed by epidemiological studies of human populations that have been exposed to perfluoroalkyl substances (PFASs). These studies indicate that exposure to PFOA and PFOS over certain levels may result in adverse health effects, including developmental effects to fetuses during pregnancy or to breastfed infants (e.g., low birth weight, accelerated puberty, skeletal variations), cancer (e.g., testicular, kidney), liver effects (e.g., tissue damage), immune effects (e.g., antibody production and immunity), thyroid effects and other effects (e.g., cholesterol changes). There is limited information identifying health effects from inhalation or dermal exposures to PFOA or PFOS in humans and animals. To learn more about the underlying studies for the health advisories, see EPA's Health Effects Support Documents for PFOA and PFOS.
Final Thoughts
While further testing and evaluation are needed to understand the complete effects of PFAS chemicals in our drinking water. It is important to know the risks associated with PFOS and take preventative measures to keep you and your loved ones safe. Handex can provide an in-depth water analysis of your drinking water to check for PFAS.
For more information, request a free quote, or contact us.