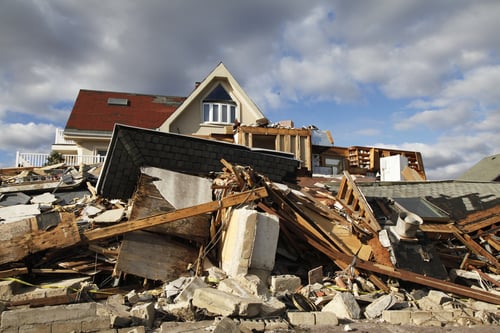 Aside from the devastation that the direct effects of a major storm like Hurricane Matthew can have on a region, several indirect effects can occur, as well. For example, pollution and disease can quickly spread if the right precautions and/or remedies aren't followed. This is why it is important for both local and state government to be aware of the potential environmental concerns they need to watch out for following a hurricane.
Contaminated Floodwater
Following a hurricane or tropical storm, flooded areas can frequently become contaminated with sewage or other hazardous materials such as industrial chemicals. The risk of infectious disease is greatly increased in these cases, especially in crowded areas or big cities. It is important to limit contact with contaminated floodwaters and follow these precautions:
Always wear rubber boots when wading through flooded water.
Do not allow children to play in floodwater.
Wash your hands and clean any open cuts as frequently as possible.
Discard any items that have come in contact with floodwater such as furniture, clothing or children's toys.
Flooded Superfund Sites
Just like any other area, superfund sites can flood in the wake of a storm. This is an especially big concern for sites that are within close range of a coastal area vulnerable to a storm surge. The risk of toxic chemicals washing into residential areas is very possible. In fact, this was the case for a community in New Jersey when cancerous contaminants spread onto a local baseball field that had to be decontaminated in the wake of Hurricane Irene.
Groundwater Contamination
Chemical plants, refining facilities and contaminated sites can often become flooded in the aftermath of a major storm. Likewise, commercial establishments such as service stations, pest control businesses and dry cleaners also have a major potential for releasing hazardous chemicals into the floodwaters.
When floodwater is eventually absorbed by the soil, concentrations of chemicals like pesticides and heavy metals could remain in the soils over State Agency cleanup action levels and may seep into the groundwater depending on the lithology of the soil. These types of chemicals can have severe long-term impacts on the environment and local population.
A Witch's Brew
Contaminated floodwater is essentially a witch's brew of toxic chemicals that can wreak havoc on the environment. In some cases, these can be the longest lasting effects of a storm. It is important for local and state governments to put proper environmental regulations in place to prevent a bad situation from becoming worse.