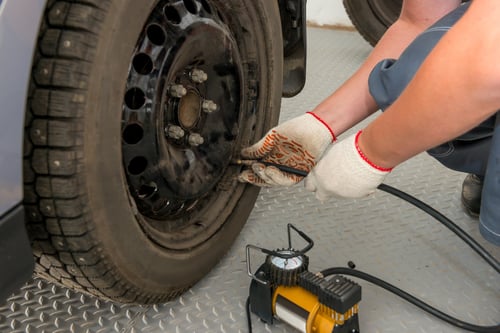 Compressed air is not just ordinary air. It is a concentrated stream of high-pressurized air that can cause serious harm or injury. In cases where compressed air is blown in under the skin, an embolism can occur and lead to fatality.
When using compressed air for industrial applications such as tires or jackhammers, here are some of the more common concerns and how you can avoid injury or risk in the workplace:
1. Hoses that are not kept in good condition are prone to breakage and more likely to cause injury.
If the hose is kinked or deteriorated at any point, the pressure may be too much and cause a rupture. Follow these precautions to minimize the risk of injury:
Inspect the air hose every time before you turn the machine on.
All damaged hoses should be disposed of properly.
Ensure there is no oil or grease in or around the hose. Failure to comply with this could lead to tank explosion.
Protect your air hoses.
Store them in areas that do not experience high traffic so they do not get damaged.
If you must work an area where vehicles or heavy machinery is being operated, use protectors to preserve the integrity of the hose.
2. Injuries can occur when air hoses are disconnected and whip around uncontrollably.
This is a common cause of injury. By using a whip check to ensure the hose is secured, you can prevent it from becoming a projectile and thrashing about wildly if it breaks or disconnects.
Check the connections whenever setting up air hoses to make sure they are secure and "safety cabled."
Always hand tighten valves, regulators and connections.
Never modify the nozzle.
If a hose breaks or becomes disconnected, immediately get out of the way.
Shut the machine off to stop the air flow.
Never attempt to grab the hose and control it; this is a common cause of injury.
3. Compressed air can get under the skin and penetrate the bloodstream, resulting in an air embolism with potentially fatal results. Also, air blown at the ears or eyes can rupture eardrums and dislodge eyeballs.
Do not use compressed air to clean yourself or your clothing. Do not point the hose at your co- workers. Even air pressure as low as 5-10 psi has been known to cause serious injury. Use a vacuum to remove dust or dirt from your clothing.
4. Airborne particles moving at an accelerated velocity can cause injury to almost any part of the body.
Air pressure as low as 40 psi can blow shrapnel and other particles into the eyes and face, leaving cuts, bruises and possibly more severe injuries.
Protective barriers should also be put in place to prevent debris from being blown into other areas.
You should also wear protective goggles and clothing to shield yourself from flying debris.
When using compressed air to clean surfaces, the pressure must be kept no higher than 30 psi.
5. Compressed air is loud. The noise level of exhausting air can reach volumes as high as 120 decibels, which is well above OSHA safety standards and may result in permanent hearing loss or damage.
Always wear hearing protection when working with compressed air.
Practice Workplace Safety
Compressed air is dangerous. In fact, it can kill. Integrating the correct safety protocol into your company procedures helps your employees avoid unnecessary injuries, and can reduce the number of accidents that occur.
Compressed air must be stored according to federal and state regulatory guidelines in a cool, dry, well-ventilated location. Portable compressed air tanks must be properly secured to a stable structure at all times