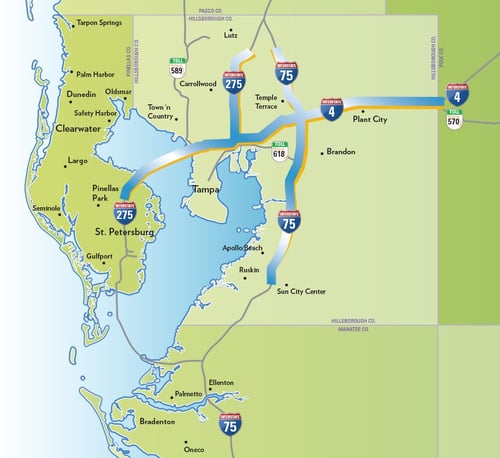 The Gateway Express project was developed to solve transportation issues in Pinellas County. After several projects were abandoned in the 1970's and 1980's, the county was left without any major limited-access thoroughfares except for I-275. The Gateway Express project has long been a priority for Pinellas County.
What is the Gateway Project?
The Gateway Expressway is comprised of six separate projects that are intended to make driving in and around Pinellas County safer and more convenient.
The overall project has been in development for 16 years and includes the following components:
A new four-lane expressway from Bayside Bridge and U.S. Highway 19 to Interstate 275.


Express lanes along the median of I-275 found south of Gandy Boulevard to the Howard Frankland Bridge. Plans also include a toll-free option.


A new flyover ramp to access the toll road will be added for drivers heading south from the Bayside Bridge. The access road at St Pete-Clearwater International Airport (PIE) will be updated and shifted south toward the overpass at Terminal Boulevard.


New flyover ramps traveling south along U.S. 19 and a new viaduct bridge at 49th street. Interchange ramps will also be reconstructed with express lanes to I-275.


Express lanes will continue north along I-275 across the Howard Frankland Bridge to connect with future express lanes through the region.
A four-lane elevated tolled expressway that would provide a direct connection from I-275 to U.S. 19 and from I-275 to U.S. 19 and from I-275 to PIE and Bayside Bridge.
The project will also open up the option for a future light rail corridor on South Ulmerton Road which will require an updated communications system.
Proposed Benefits
The Gateway Project is expected to move Tampa into the 21st century and help reduce congestion and traveling time for everyone. Express lanes offer reliable travel times for drivers who are in a hurry and cannot afford to be stuck in traffic.
Areas most affected by the project will include:
I-75 from north of Bruce B. Downs Blvd to south SR 674
I-275 from south of Bearss Ave. to Gandy Blvd
I-4 from the downtown Tampa interchange to the Polk Parkway
Proven Success
Cities all across Florida and the U.S. have successfully mitigated traffic congestion by opening express lanes. For example, Miami has been operating express lanes for close to five years and has seen drivers reaching 50 mph even during rush hour. Nationally, cities such as Houston, Atlanta and Washington D.C. have also seen great success by adding express lanes.
To learn more about the Gateway Express project, visit the Tampa Bay Express website.