Just as your toilet needs to be cleaned every week or so, wastewater lagoons also frequently fill up with sludge, silt and organic waste materials that do not wash away. Common fillers like grass, leaves, animal waste and waterfowl will speed up the dirtying of a lagoon, and once it's dirty, complications can arise.
The most common sign that a lagoon needs to be cleaned is when it is overflowing. Other common problems caused by too much grime and waste in a lagoon include heavy algae and cattail growth, toilets that flush more slowly than usual and a bad odor in the air. These problems can prove irritating for those who use lagoons as their wastewater treatment systems. Fortunately, regular cleaning is easy to maintain.
How are Lagoons Cleaned?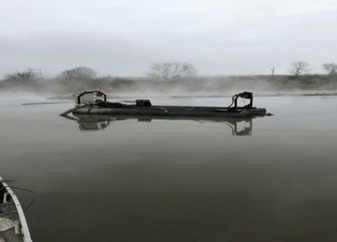 At Handex we have the latest technologies to clean out pit/ponds/lagoons and bring them back to it's original state. We have mechanical dredges that we can use to remove these sludges from your ponds and dewater the sludge from it. Also, a cutter-head dredge enables the removal of sludge and sediment at a fixed or variable depth over the surface area of a lagoon. Dredges are also appropriate for a lagoon where a water layer is required to maintain odor control. The dredge can cut a swath eight feet wide and as deep as thirteen feet below the surface.
Handex can assist with getting your ponds back in an orderly fashion with our sludge removal and dewatering service. We can perform lagoon closures as well as interim sludge removal. We look forward to hearing from you, contact us for more information and your free quote today!