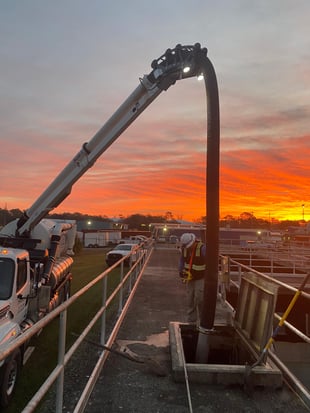 Hurricanes and severe weather are one of the most common and damage-causing natural catastrophes in the United States. With an active hurricane season for 2023, is your facility prepared? Being ready for storm season as well as the aftermath is essential.
Heavy rain and high winds can adversely affect your storm/sewer system, specially if it's backed up with solids and have not been receiving proper maintenance. There are some things you need to know to guard your system against damage, before a major storm threatens your local area.
Hurricane preparations for storm/sewer systems should start before an emergency. Which vacuum trucks are best when it comes to make our facilities safe and clean, before and after a natural disaster?
Vactor Combo Jetter/Vacuum Trucks use high-pressure water jetting and high-power vacuuming to clean sewers and pipes. The solids and debris is removed by the jets and then vacuumed.
Hydro Excavation Trucks involve the use of high-pressure water jets. These water jets help excavate underground areas. This form of excavation is non-invasive, making it a more safe and popular approach.

If your facility is not ready for severe weather, what are you waiting for? Now is the time to prepare for storm season. One way vacuum trucks help prepare for severe weather is through waste management. If a storm/sewer system isn't properly managed, heavy rain, wind and flooding can cause extreme damage. These trucks help manage sewer systems throughout the area, ensuring they are ready to endure any storm.
Vacuum trucks do more than clean out and manage sewer systems, they benefit cities, municipalities, and industries, especially those harshly impacted during storm seasons. These trucks play an important role in rescue missions caused by storms and other environmental disasters.
When a Natural Disaster occurs, vacuum trucks are essential in resolving the issue and help clean up dangerous debris and hazardous waste from a storm's aftermath. We are here to help when disaster strikes, contact us and we will be there for all your vacuum truck needs.