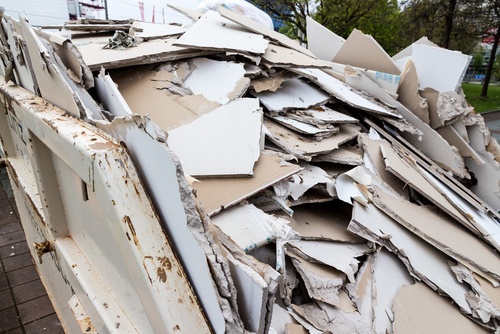 We have officially entered the 2016 hurricane season! This means it is time to refresh our memories and follow hurricane safety protocol.
Even if a hurricane does not hit your area, you will probably experience heavy winds, rain and thunderstorms. Cleaning up the aftermath of these storms can be dangerous and storm debris often contains sharp objects, electrical lines and toxic chemicals; especially if flooding has occurred.
Cleaning up Waste
There are two main types of waste debris you will find after a storm:
Organic
Construction-demolition
Construction-demolition waste is made up of artificial materials that can release toxic chemicals under the right conditions. This type of waste is often much more difficult to clean up because special handling and disposal guidelines need to be followed. In fact, most construction-demolition waste can only be disposed of in a permitted landfill so that it doesn't combine with organic materials and produce toxic gasses.
Gypsum Board and H2S Production
One of the more common materials found in construction-demolition waste is gypsum board. Gypsum board is often found in drywall. When it combines with water and organic materials, it produces a toxic gas known as hydrogen sulfide (H2S) which can smell terrible (like rotten eggs) and lead to respiratory problems in high concentrations.
Organic materials provide a source of carbon for the growth of H2S cell structures, reducing the sulfate to hydrogen sulfide. This process requires a continuous supply of both organic material and sulfate ions in order to continue. Under the right conditions, production of H2S gas can happen exponentially quicker than normal bacterial degradation.
Disposing of Gypsum
In the presence of other materials and under the right conditions, gypsum and other sulfate minerals found in construction-demolition waste can produce H2S as they decompose. This is why they need to be placed in separate landfills from organic waste. Simply put, gypsum is a good food source for anaerobic bacteria. In wet conditions, such as those in a flooded or storm-ravaged area, production of H2S can be magnified greatly. This is why professional remediation firms should be brought in to evaluate and handle disposal of construction-demolition wastes.
Additional Tips
Natural disasters such as floods, earthquakes, hurricanes and tornadoes pose a constant challenge for communities all over the country. These events can cause serious damage and leave large amounts of debris scattered across the area. Here a few things to keep in mind when cleaning up storm debris:
In flooded areas, it is possible for above ground storage tanks (ASTs) to float, capsize and spill their contents.


For underground storage tanks (USTs), flood waters can enter the tanks and displace all types of fuels (water is heavier than the fuels, so it displaces it) through leaking vent lines or improperly capped / faulty caps on any tank.


These petroleum products can impact soils as deep as 2 feet as flood waters recede.


With wave actions, there can also be impact to crawl spaces and basements, causing additional challenges for clean up.
Hiring Handex
In most cases, you will need site support or a cleanup service to help you assess damage and safely dispose of debris. Handex is a full service environmental company focused on providing professional environmental remediation, construction and emergency response services in the United States. Founded in 1968, we have over 40 years of experience in our field. Please contact us before attempting to remove any storm debris from your property.