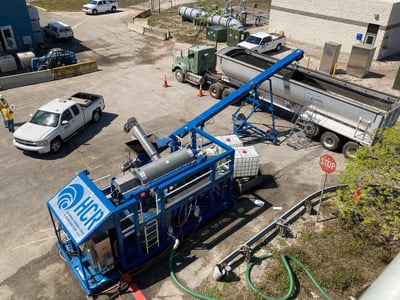 Biosolids dewatering is key to any wastewater treatment plant to minimize the number of solids that are being processed through their system.
Handex follows all local, state, and federal regulations when it comes to biosolids requirements. By utilizing our centrifuge technique, we can dewater sewage sludge and apply the additional treatments to ensure it meets the three regulatory classes of biosolids.
Handex assists wastewater treatment plants in this process in many ways such as centrifuge equipment sales and operation, temporary dewatering services while a treatment plant conducts system upgrades of their processes, or during times when equipment normally used is being repaired. Handex continues to provide high-quality biosolids products while exploring new wastewater treatment technologies to improve biosolids resource recovery and management options for wastewater treatment facilities.