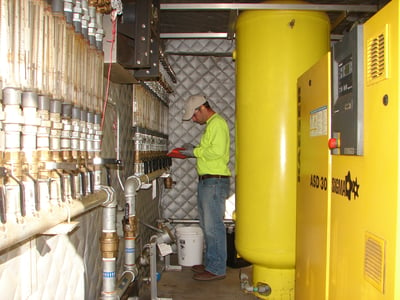 Handex provides a comprehensive OM&M program designed to minimize downtime, reduce system operating costs and explore alternative approaches as needed to achieve site closure. We accomplish this by utilizing systems that include automated remote monitoring, a Preventative Maintenance Program to prolong equipment life, and designs that feature critical safety devices.
Our personnel have installed, operated and maintained an assortment of soil, groundwater and air remediation and mitigation systems. Based on extensive experience, we have a unique insight into cost-effective remedial designs and system management. Our clients, including environmental consulting firms, choose us for our premier OM&M services, including:
Experienced operations and maintenance staff
Cost efficient procedures
Analytical trend and cost savings data
Consistent and accurate on-time reporting
Rapid mobilization and execution
Remote monitoring for system optimization
On-site problem solving
24-hour emergency response capabilities for current clients. We've operated thousands of remedial systems from simple sub-slab depressurization systems to complex multi-point, multi-phase systems with a variety of processes including:

Groundwater extraction and treatment
Liquid and solid carbon treatment
Sand/mixed media filters
UV oxidation
Air stripping
Catalytic oxidation
Air sparging
Bio-venting and other bio-remediation approaches
Soil vapor extraction
Soil excavation, removal, and disposal
Chemical injection
Landfill gas and leachate collection and treatment
OM&M costs often represent the single largest portion of lifecycle costs for site remediation. We provide OM&M services to customers with single or multiple soil, water and air treatment systems. An experienced field staff, along with our engineering and consulting personnel, are available to assist with the design and construction of treatment and remedial systems. We have in-house computer aided design and drafting (CADD) capabilities for as-built diagrams, permit approval drawings, and O&M manuals. We also have the experience necessary to evaluate and assess existing systems on site and provide recommendations for system optimization. The OM&M Program is structured to reduce system operation costs while exploring alternate approaches to achieving site closure. Task level support is utilized to keep systems operating properly, while maintaining compliance and enhancing regulatory relationships that lead to closures. We provide unique service through:

Existing infrastructure (equipment, database systems, 24-hour response systems)
Repair capabilities
Efficient staffing (sampling technicians, licensed professionals, system operators, project managers)
Handex owns and operates its own equipment and instrumentation to ensure responsiveness, rapid mobilization to and from all sites, and minimal subcontracting requirements and markups. Our infrastructure provides full in-house maintenance capabilities in our own repair shop. As such, we have the ability to repair a majority of components found in remedial systems on-site or at company facilities. Our service technicians are familiar with the repair and maintenance requirements of all systems installed and maintained by us. We also enjoy valued relationships with major suppliers to promptly solve non-routine equipment challenges.